Most recently my very own home was featured on
Houzz.com
- and I was oh so flattered.
A very lovely local photographer and designer, Laura Garner,
picked me out of oh so many Montreal homes to feature.
So, now you know how I live too!
The credenza above, was purchased at the Sears Liquidation Center for only $400,
because it was slightly damaged. Can you see it? Neither could I so I bought it on sight!

Floor Lamp from Winners for only $30, and photographs shot by me in Maine, USA, a few years ago
are housed in IKEA frames, for the best purchase in town. I periodically change these photos,
inexpensively by printing them on plain paper at a local printer on proper paper color format,
costs less than a dollar a photo and for the non discerning eye, does the trick!
Keeps the home fresh looking, and creates a gallery that is forever changing.




The Living Area


Coffee table was also a 'find' when travelling in Boston. I didn't like the dark top it originally
had, but replacing it with a marble slab was going to cost over 400$ so, I took a can of para paint
and spray painted it. I messed up a bit and rushed so the finish wasn't ideal, but in fact, it ended
up being even better than I originally planned cause the waves in the paint created a texture that
makes it even more unique!
My sofa is comfy and chocolatey brown, allowing for dirt to accumulate on it without having an impact
on my lifestyle. I believe in really using your living space and home, and using your good
china and linens. I tell every client to surround themselves by things that they love
and treasure. The yellow acrylic artwork by friend and fabulous Quebec artist Pascale Poulin.





I am a budget person, living in a great neighborhood!
Luckily I purchased my loft just before the market went haywire, and that was all pure luck,
nothing to do with me being savvy.
However I cannot say that I am not savvy about picking and choosing how to
style my place on a really really tight budget, allowing me to spend my money wisely,
making things look snazzy, hip, cool, and yet I am thrifty and imaginative!
You can do it too! I often find junk in the alleys, or even the garage of my condo building,
where people will toss things that they don't value any longer, and turn them into my treasure!
This gives me immense pleasure and a sense of accomplishment.



Bedroom
My bedroom is huge! So filling it up with costly large pieces was not an option. Instead I opted
to get a piece of wood, screwed those large planks together, and with the help of my best friend
Maria, we sewed some material together, created a padding for the back and staple gunned the
piecing taut to the actual headboard. My brother-in-law then mounted the headboard to the wall,
allowing it to be sturdy and not budge! Cost? Less than 200$, depending on your fabrics
and materials.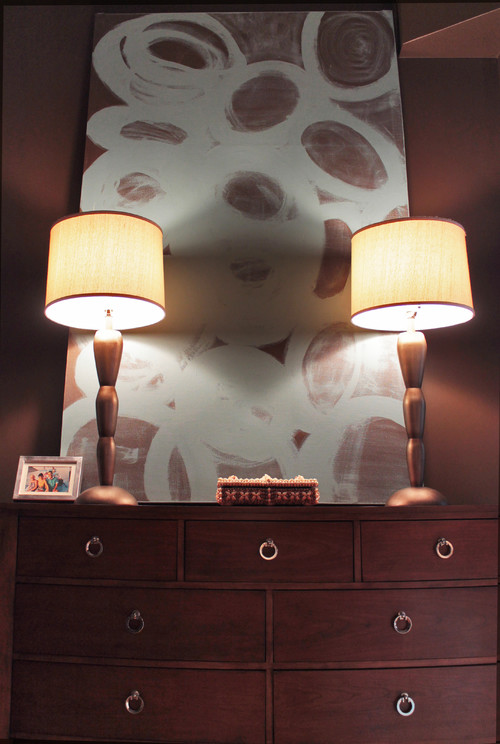 The piece above also on liquidation from a low end furniture store in Montreal was also
bought for under $500. I love it's shape, bulk and height! The artwork, done by me, using a
stretched canvas I made myself following instructions from an artist friend of mine Pascale Poulin.
The yellow artwork in the living room is hers! I adore it!
I then used left over house paint to create the swirls.
I think this was the most intimidating project of all, expressing your inner child!
Also inexpensive and do-able. Even if you projected an image onto the canvas you can
easily accomplish a unique piece of art for your home!
The lamps were my parent's, housed in their basement from the 1970's.
Mom kept them stored away in the attic. When glass lamps re surged a few years ago,
I asked her for them, bought some inexpensive shades and voila!
The side tables were also Winners finds for 250$ a piece. Wow! Great find!
A discerning eye knows a good deal when it sees one!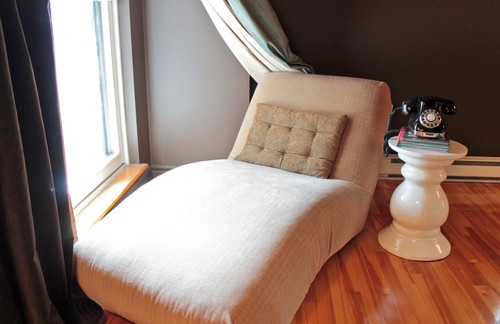 The chaise lounge was a second hand buy for 60$. I found it at Village des Valeurs
(salvation army style shop) and hauled it back home. I re-upholstered it with a sewing
machine, a book on upholstery and a staple gun! Cheap, and ideal for lounging by
the patio door.
The white chess piece also slightly damaged was purchased again at Winners for less than 40$.
Yes, the telephone works, it was purchased at Crate and Barrel years ago.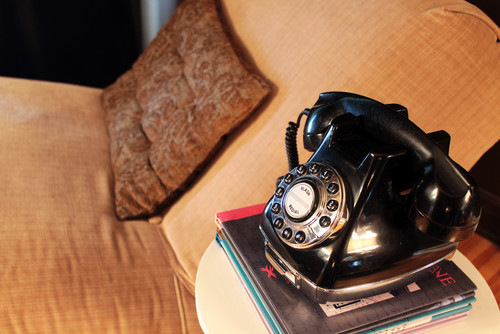 The Zen Den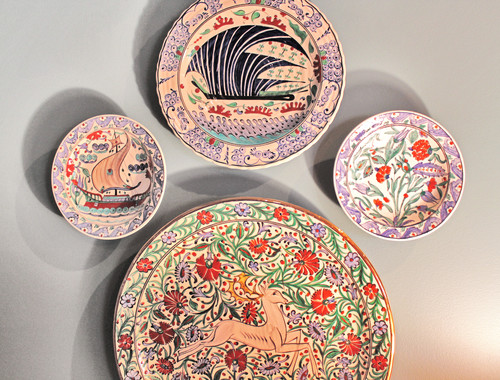 The room a friend coined the Zen Den, is where I mix and match anything ethnic. I love this room.
It is chock-full of things like these old plates hand painted from the island of Rhodes.
The crowning one was won by my parents during a dance competition when
they were engaged at the club Elli in the 50's. I adore it. Some of these are no longer being made.
The armchairs are from the basement where in the 70's we lounged around in them when teenagers.
They have a classic tuxedo shape. The rug - found in the trash - 100% wool and clean as a
whistle. The piano stool also a trash find! Mementos are everywhere in this room.
It hugs you when you're in it.
Bath
I spotted a mirror like the one above in a fancy furniture shop in Montreal, on St. Denis street.
It was priced at over 800$. I was determined to make it happen on a dime.
When I found these old ceiling tiles at 10$ a piece I bought them on the spot while in the Laurentians.
I then created his mirror, with screws, paint and a mirror cut to size.
Cost? Less than 140 dollars!
More beautiful images from Maine inexpensively framed in the bathroom.
I hope I've inspired you to find your ways of designing on a dime!
For more on the article on Houzz visit
Exotic Luxe in Montreal Loft
.
Enjoy and get inspired!